Welcome to NICA!
The National Independent Concessionaires Association is a member-driven organization dedicated to strengthening relationships with the Fair, Festival, and Special Events Industries through effective communication, benefits, education, leadership, and solutions.
Our growing membership includes over 1100 mobile food and retail Concessionaires, Fairs, Festivals, and Associate Members in the Industry-related companies in the United States and Canada. NICA's large amount of benefits include discounts on variety of items including food, beverages, supplies, travel, and lodging, so you can make the most of your season. 
NICA participates in a majority of State Fair annual conventions along with the WFA Convention and NICA Sysco Marketplace in January, NICA Business Expo and Fare Foods Food Show in February, and IAFE Convention in November.
Focusing on the Future Together
The Coronavirus (COVID-19) Pandemic has thrust our lives into unknown territory. We recognize this is a frightening time and that many in our Industry have faced both health and economic impacts. We are here to help. The NICA Office is now located in a state mandated for "stay-at-home," but the NICA Staff is fully operational as a telecommuting workforce and we are ready to assist you.
Our NICA Board of Directors understands that during this time of COVID-19, tight money and uncertainty is having an impact on many of our members' businesses. Therefore, if you are a member in good standing experiencing a hardship paying your NICA membership dues please contact us today and we will provide a six month grace period.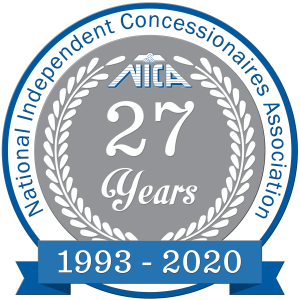 Hall of Fame Nominations Due by November 10th!
The NICA Hall of Fame award honors distinguished achievements and outstanding contributions by any individual "to the health and wellbeing of this organization by any means, whether it be through hard work, influence, financial contribution or by any other positive method and/or whether they be concessionaire, associate, event management, administration or volunteer. All Nominees submitted by the deadline date will be evaluated by the Hall of Fame Committee and the top three will be referred to the NICA Board of Directors for the final decision." (Policies and Procedures, 2007). 
The discount and savings programs that NICA has negotiated with our premiere partners are just another way we are building relationships throughout this industry in order to bring much needed and REAL benefits to our members. See the latest Benefit Booklet for more details.