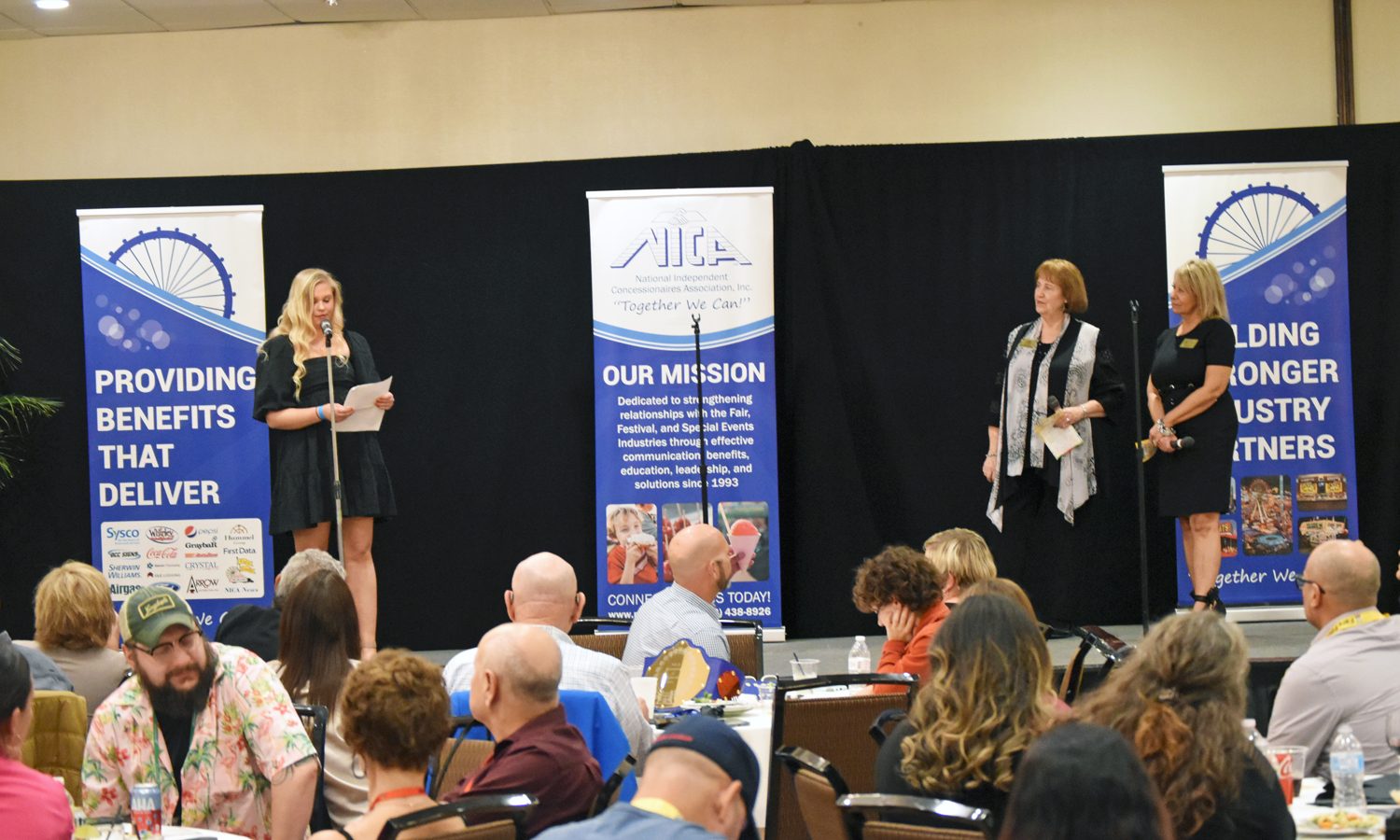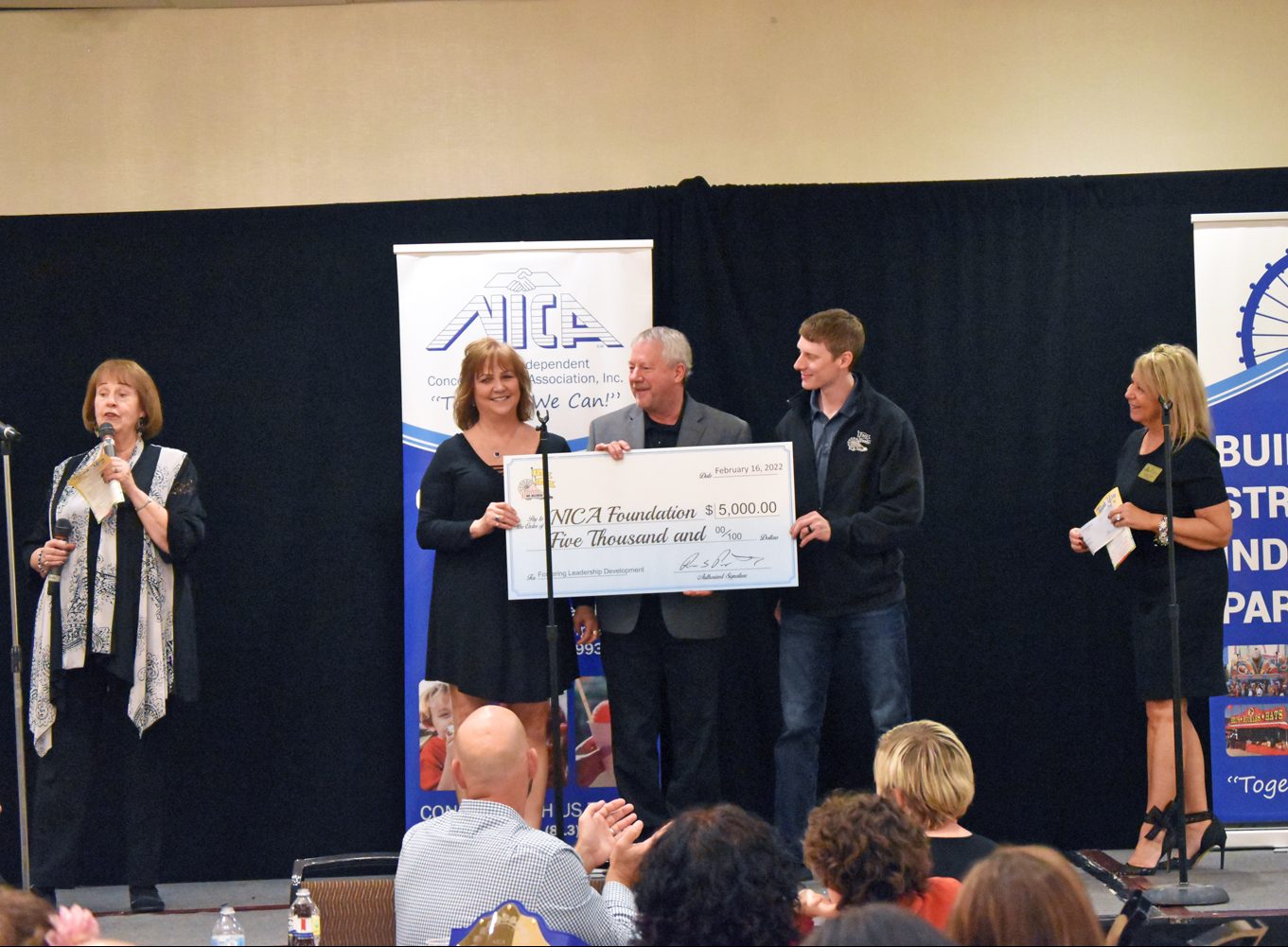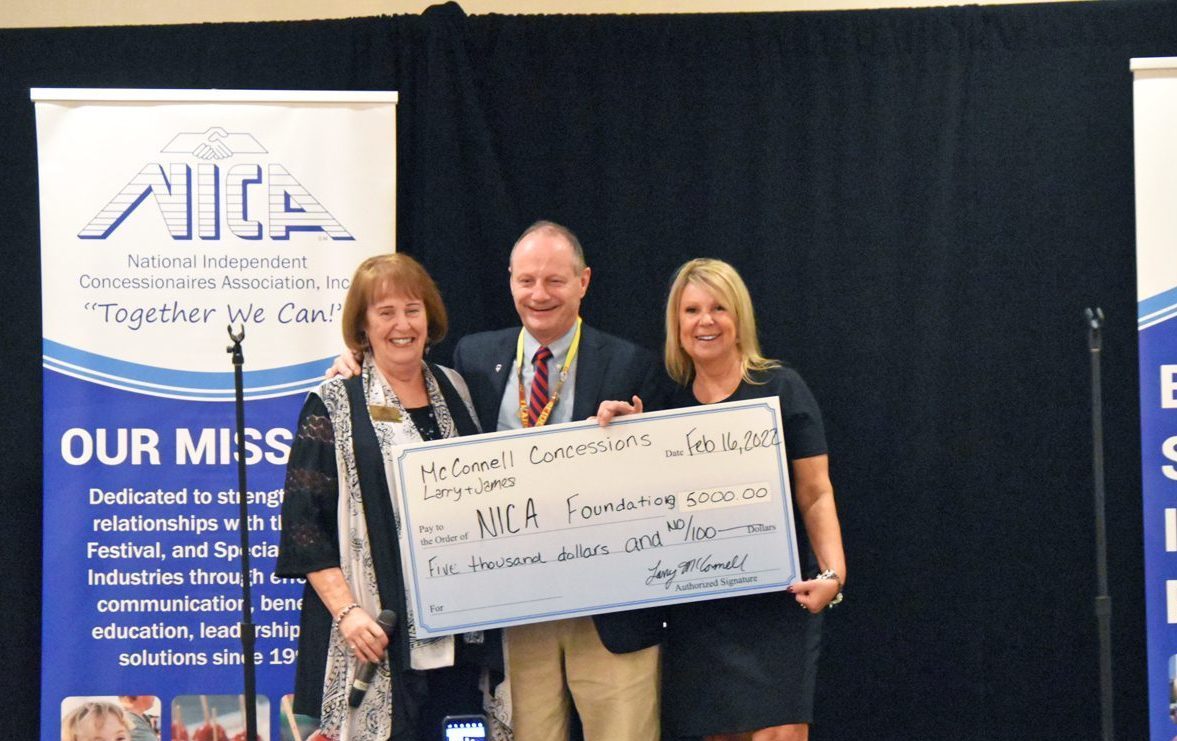 To foster leadership development in the fair and event industries by providing support through educational scholarships and by enhancing training and professional services.

Supporting Scholarships with AmazonSmile
Created by NICA to oversee and administer a formal education scholarship program and foster development opportunities and training services, the NICA Foundation awarded $33,500 to 17 deserving individuals in 2022. We are so proud to say, WE DID IT!
Do you shop at Amazon? The NICA Foundation is now registered as a charitable organization with AmazonSmile. By choosing NICA Foundation on your AmazonSmile account, you can support the NICA Foundation every time you shop, especially during the Holiday Season, at no cost to you. When you shop at smile.amazon.com, you'll find the exact same shopping experience as amazon.com, with the added bonus that Amazon will donate 0.5% of the purchase price to the NICA Foundation.
Supporting the NICA Foundation is Easy
If you do not yet have a charity selected, select "Start Shopping" on the NICA Foundation's AmazonSmile website. If you have already selected a charity, you will be prompted to change it to "NICA Foundation Inc."
Shop on smile.amazon.com. To check if your charity is correct, it will display "Supporting: NICA Foundation Inc" on the top of the website.
0.5% of your purchase may seem like a small amount, but a donation from you in any amount will empower and expand someone's opportunity to commit to their education. Your kindness and foresight will be used to build the foundation for future students to learn, grow, and THRIVE!
2022 NICA Foundation Scholarship Recipients Have Been Selected
The NICA Foundation is pleased to announce the selection of the 2022 NICA Scholarship Recipients. After a thorough, confidential, and anonymous review of the many applications received, the NICA Foundation is proud to award 17 scholarships this year, for a total of $33,500, to our commendable recipients.
Congratulations to our Recipients:
25th Anniversary Scholarship – Olivia Owens
Coca-Cola CCE Scholarship – Devin Coffman
Regional Councils' Scholarship – Kylie Kastl
Hall of Fame Scholarship – Sam Beach
Leadership Scholarship – Kennedy Tutak
Arthur Pokorny Visionary Scholarships – Hailey Miller and Lauren Distad
Fare Foods Visionary Scholarship – Macey Kenna
Hummel Group Visionary Scholarship – Savannah Grout
Norma Jean & Edgar Sivori Visionary Scholarship – Lilly Underberg
McConnell Family Visionary Scholarship – Gage Morgenstern
Visionary Scholarship – Autumn McDaniel
Entrepreneurial Scholarships – Allessia Ukmar, Kahner Hartley, and Sahian Saucedo Esquivel
Inspirational Scholarships – Estella Collmer and Alissa Rockwell
"We are confident that our Scholarship Recipients and Applicants will do great things with their education in our Industry and/or on their own individual path," NICA Foundation President Audrey Poole said. "This Scholarship Program is the foundation for future students to learn, grow, and THRIVE!"
Thank you to the 2022 Scholarship Program Sponsors: Arthur Pokorny, Barb Wilson Enterprises; Coca-Cola; Laura and Ron Porter, Fare Foods; Phil Teague, Hummel Group; Lawrence Sivori, Sivori Catering; and James and Larry McConnell, CCE, McConnell Concessions. The additional fundraising efforts of the NICA Foundation Board of Trustees, NICA Past Presidents and Board of Directors, the NICA Regional Councils and the NICA Membership help to ensure this program truly makes a difference in the lives of our young people.
Applications for the 2023 Scholarship Program will be available in early Spring 2023.
Thank You to Our Generous 2021-2022 Donors!
Bronze Level: $0-$149
Brandy Arredondo, CCE
Kim Barr, CCE
Beach Concessions
Beaver Concessions
Sherry Bechler
Jacqueline Bradbury, CCE
Savannah Bradbury
Amy Brick
Bary Bunts, CCE
Sandy Class, CCE
Brian Creeson
John Doolan
Samantha Fairlie
Kelly Grout
Scott Henry (2022)
Dale Hershberger
Tom Hodson, CCE
Jeanne's Artichokes
JLQ Concessions
Paulette Keene, CCE
Kim-Laine Fun Doods, LLC
James & Siegrid La Fratta
Dennis Larson, CFE
Ryan Long
Maverick
Taylor McKnight
Gentry Miller
Kara Moederndorfer, CCE
Ryan Needham
Ryann Newman
Ken Nunn
SanDee O'Brien, CCE
Pacific Coast Concessions
Gino Palmieri
Mike Peterson
Mark Piche
Lynette Rawlings (2022)
Ray Cammack Shows
Donna Ruhm
Grant & Gail Simons
Jim Sinclair, CFE
TBA Concessions
George Wandrey (2022)
Jacqueline & Jack Woods, CCE
Richard Wright (2022)
Silver Level: $150- $499
Berk Enterprises
Brander Enterprises
C&C Concessions
Richard Castillo
Country Fair Cinnamon Rolls
Terri Crutchfield
Funnel Cake Express
G & G Concessions, LLC (2022)
Russ Harrison, CCE
Hopkins Concessions (2022)
Hotdog on a Stick
David & Kathrine Kleier
Leap of Faith Productions
Robert & Julie Leibham
Joshua Nicholson
Odyssey Foods
Olde Tyme Ice Cream
Dan Royer
Southern Oregon Food & Beverage
Victor Products Co.
Gold Level: $500- $999
Chuck & Irene Dugan
Family-A-Fair
Florida State Fair
Dennis Fraleigh
Giant Ride
Helm Concessions (2022)
Loret Foods
Lori's Concessions
The Original Australian Battered Potatoes
Deborah Powers
Zwaska Funeral Home Inc.
Platinum Level: $1,000-$2,999
Hummel Group
Mark Lancaster
MYCO USA LLC
Kelly Myers
NICA Leadership
Brad Schroder
Rio Syrup
Rey O'Day
Audrey Poole (2022)
Larry Sivori
Vartanian Concessions Management
Diamond Level: $3,000-$5,999
Coca-Cola
Fare Foods
Forever Concession Trailers, LLC (2022)
Larry & James McConnell, CCE
NICA Regional Councils
2022 NICA Foundation Board of Trustees
Meet our NICA Foundation Board of Trustees, who collectively have 170 years of experience in the Fairs and Events Industries:
Audrey Poole



President
Audrey Poole, has had the opportunity to be associated with the fair industry for over 15 years. Currently, Audrey is the Vice President of Business Development at Fare Foods Corporation, Du Quoin, IL and Tampa, FL; and produces the annual Food Show in conjunction with NICA's Business Expo during early February. Fare Foods has been a NICA member since 1994, and was built on excellent service and delivery. Audrey's favorite work activities include working with Fare Food's customers to develop long-term relationships and all special prints and marketing pieces for their customers. Audrey also serves on the Board of Governors for the Showmen's League of America.
Audrey has also always been in the food industry, as a member of the executive team for a grocery wholesale company for 24 years. Audrey is honored to be asked to serve as the first NICA Foundation President. For her it is a dream come true. Audrey's vision and passion will lead the Foundation to grow its scholarship and educational programming. She adds "I am very passionate about scholarship programs, and ways to further assist in the education of our young people; as well as, those who have chosen an alternate career path later in life."
---
Greg Miller CCE



Vice President
Greg Miller, CCE owns and operates Miller & Company Food Concessions, LLC, Lewisburg, West Virginia, with his wife Janey. Greg served on the NICA Board for 6 years and as NICA President in 2012-2013 and 2014-2015.  He continues to be active in the organization today.
Soon after high school, Greg entered the family-owned John Deere business, and spent a decade working his way through all aspects of the dealership, expecting to someday own the dealership. When he received that opportunity, he ran it for four years before selling, and then found himself intrigued by the concession business. Greg started his operation, selling soft serve ice cream, and since has expanded to several other food products. Today his route includes much of the Southeast and is as far west as Kentucky.
Greg earned his Certified Concessionaire Executive Designation in 2009, and has been a guest speaker at many local, state and national fair conventions. He is also very proud of his three sons, Gentry, Holland and Peyton and their spouses. Greg's philosophy of life—"walk a mile in another man's shoes"—has served him very well in life;  especially when managing his concession business and communicating with the Fair Industry.
---
Rey O'Day



Secretary
Rey O'Day started her fair career as a young performer at State Fairs.  Then as owner of Wings of Fame Productions, a Los Angeles based training and entertainment production company; she built Costumed Characters and produced or directed hundreds of theme park, fair and special event shows. After being the Entertainment Manager at Busch Gardens LA, she went to work for Fairplex, the home of the LA County Fair, where during 18 years she held a number of key management positions including Assistant Operations Manager, Retail Sales Manager, Entertainment Manager, Director of Food and Beverage, and General Manager of Cornucopia Foods, LLC. 
Her food and beverage responsibilities led her to NICA where she served two terms on the NICA Advisory Committee during the 1990's. In 2006 she began working for NICA part time, served as Interim Executive Director from 2015 – 2016 and today serves as NICA's Executive Director.
Currently, she also teaches the IAFE Institute courses on "The Principles of Food and Beverage" and "Guest Services," and is an Instructor at UC-Riverside in "Principles of Event Management."
She holds a Bachelor of Science Degree in Business Management and a California Community College Credential in Dance.
Rey added, "I am honored to be the NICA Foundation Secretary, proud of the scholarships that we provide, and looking forward to the educational and leadership opportunities we will develop for our members and the Fair Industry."

---
Jennifer Giordano CCE



Treasurer
Jennifer Giordano CCE, owns and operates C&C Concessions, La Verne, CA with her husband Ken and family;  a company started by her father-in-law in 1964. It is a cafeteria/barbecue concession business with a route in California. Jennifer's business strives to have a product they are proud to serve and believes no one should sell anything they would not truly enjoy experiencing themselves.
Jennifer served as a member of the NICA West Council for six years and as the NICA Board of Directors Treasurer for three years beginning in 2015. She earned her Certified Concessionaire Executive designation in 2018. She has also participated in many Communication Committees at the fairs she works on the West Coast. Jennifer believes in our industry, and in the need for open and honest communication, among concessionaires, fairs, and employees. In her Board confirmation letter she delightfully added, "I am looking forward to great things."
---
Don Kenna

Trustee
Don Kenna and his wife Cecelia own and operate Dickerson & Kenna Concessions. He started in the food concession business when he was 16 years old working for Christy's Fine Foods. Later working in Jim and Millie Dickerson's cookhouse, he met my wife Cecelia "the boss's daughter." They were married in 1980 and they have been in the concession business ever since. They have 4 children: Brittany and husband Kevin, Elizabeth and husband Tyler, Dustin, Macey, and granddaughter Makenzie.
Don has been a NICA Member since the beginning. He stated, "When Art Carroll Sr. and Larry Orme spoke to me about forming an organization for independent concessionaires, I jumped at the opportunity to be a charter member. To see NICA's growth through the years and the impact it has grown to have on our Industry is truly amazing. I have seen firsthand NICA's commitment to better communications advanced at managements with great results."
 He joined the NICA Foundation's Board of Trustees so he can "lend a hand" in NICA's future. He added, "Having two daughters who have received the NICA scholarship which has helped advance their future I see this as an opportunity to give back to the NICA organization and help advance its future."
---
Mark Lancaster



Trustee
Mark Lancaster brings 25 years' experience in the outdoor event industry as the President of Vista Mobility Inc, a company his father started in 1987. Mark graduated from St Nobert College in Green Bay, Wisconsin in 1992 with a BA-Finance degree.
After graduation, Mark joined the theme park division for his fathers' company. A year later, he launched the outdoor event division where he developed and specialized mobility equipment programs to assist state fairs across the country. In 1995, Mark and his father were the pioneers of handicap scooters to the outdoor event industry. Through hard work, passion, and involvement with NICA, WFA, and IAFE, he has developed a solid foundation of 40+ clients across the U.S.
Mark's experience, relationships and charisma will be instrumental in exposing vendors across the country to the benefits of The NICA Foundation and the importance of continued support and donations. Mark observed, "Educational scholarships, training and support are essential for the success of our industry."
---
Vincent Nelson, CCE

Trustee
Vincent Nelson, CCE is a third generation Concessionaire and he has "been on the road [his] entire life." He started helping his parents when he was around 12 years old and explains that he knew from a young age that he wanted to have a pizza trailer. In 2001, he purchased his first pizza trailer and it has grown from there. With the help of his wife Linda, they have grown their business to eight Concession stands, operating most weeks in the Northeast from April to November. He says that his two children, Gabriella, 13, and Vincent, 9, are showing interest and helping as much as they can. "Some day soon they will be behind the counters helping Linda and me run our business."
Vincent has served as Council member for the past four years and a Board Director for the past three years, beginning a new term in 2021. He currently serves as the 2nd Vice President of NICA. Reflecting on his service he states, "I have learned a lot about myself, my business, and the members of NICA. Serving on the Board of Directors has helped me in many ways. It has made me a better leader, not only in my Concession business, but I now also serve on my local Town Board as a Council member. I love the Fair Industry. I have built friendships with Fairs, Festivals and lots of NICA members and non-NICA members."
---
Kim Barr, CCE

Trustee
Kim has been in the Concession business for over 30 years. Kim and her husband Alan started out both working full-time jobs and did Fairs on vacation time, working many years that way. They worked diligently to gain more Fairs and finally accomplished that in the mid 2000's; Alan quit his full-time job and Kim was able to quit hers the following year, doing their business then full-time! Kim shares, "We've worked hard, giving up many family events, vacations to fun places, etc. At times we felt bad for missing out, as well as our kids having to work many summers without having time with friends. But looking back, it has made ALL three of our boys better for it! And we wouldn't change it."
Kim has been a NICA Member since 2012, served on the West Council in 2014 before becoming an Ex-Officio Board Member in 2019. In 2021, she was elected Treasurer and served on the Finance Committee. She is now the 2nd Vice President and serves as the Chair of the Benefits Committee. She says, "NICA encourages us to communicate and work with our Fairs. I believe communication between Fairs, Concessions, and Commercial Vendors is improving and that we are working together more. And more importantly, we have become professional operators who are focused on quality and guest service because of the learning opportunities that NICA provides."
---
Carmel Dyer-Pittroff, CCE

Trustee
Carmel has been in the Fair Industry for over 40 years and, over time, she has joined NICA, IAFE, OABA, WFA, Showmens League and RAS (Royal Agricultural Society Sydney). Regarding NICA, she states, "NICA's membership needs to continue to grow and my goal is to encourage more Concessionaires to join. Through the hard work of the very committed Board members, our NICA benefits are probably the best in the industry."
Carmel has been a NICA Member since 2007 and joined the NICA Board as a Director in 2017 after supporting many West Council activities throughout the years. Although her term ended on the NICA Board, she looks forward to building the NICA Foundation along with her fellow Trustees. She shares, "Participating at four major Fairs in Sydney, Australia, California, and the Midwest has taught me so much. We all need to work together so that we can learn from and help each other."
Sponsorship Opportunities
Presenting Partner ($15,000 and up)
Company Logo on ALL printed/published Foundation Materials
*Named Scholarship Opportunity
4 NICA event Spotlight opportunities
Full page color ads (choice of 6 months) in NICA News Magazine
6 total social media, website and/or NICA Now platform opportunities
1 full page color ad in NICA Annual Directory
4 Annual NICA Memberships
Annual donation tax deductible to full extent of the law
Visionary Partner ($10,000 - $14,999)
Company Logo on ALL printed/published Foundation Materials
*Named Scholarship Opportunity
2 NICA event Spotlight opportunities
Full page color ads (choice of 4 months) in NICA News Magazine
5 total social media, website and/or NICA Now platform opportunities
1 Full page color ad in NICA Annual Directory
2 Annual NICA Memberships
Annual donation tax deductible to full extent of the law
Distinguished Partner ($5,000 - $9,999)
Company Logo on ALL printed/published Foundation Materials
*Named Scholarship Opportunity
1 NICA event Spotlight opportunities
Full page color ads (choice of 3 months) in NICA News Magazine
4 total social media, website and/or NICA Now platform opportunities
½ page color ad in NICA Annual Directory
2 Annual NICA Memberships
Annual donation tax deductible to full extent of the law
Supporting Partner ($1,000 - $4,999)
Company Logo on ALL printed/published Foundation Materials
½ page color ads (choice of 2 months) in NICA News Magazine
3 total social media, website and/or NICA Now platform opportunities
½ page color ad in NICA Annual Directory
1 Annual NICA Membership
Annual donation tax deductible to full extent of the law
Honorary Partner ($500 - $999)
Company logo on ALL printed/published Foundation materials
Annual donation tax deductible to full extent of the law
*Named Scholarship
20% Administrative fee
3 year commitment in the first three categories with a 20% administrative fee qualifies for a Named Scholarship
Available in the Presenting, Visionary, and Distinguished Partner levels
Donate to the NICA Foundation Today
Contributions of any and all amounts will be considered. To use a credit card, please use the Donate button below. For all check or money orders, please submit them to NICA Foundation, 1043 E. Brandon Blvd. Brandon, FL 33511. Thank you once again for your generous support and dedication to the mission of NICA Foundation.
NICA Foundation is a non-profit, exempt charitable organization under section 501(c)(3) of the Internal Revenue Code – Tax Identification Number 84-2778496. No goods or services were provided to you in consideration for your generous contribution. Your contribution is tax-deductible to the full extent allowed by law.