Announcements
Do you have any announcements that you would like to share with the NICA membership? Contact us today!
---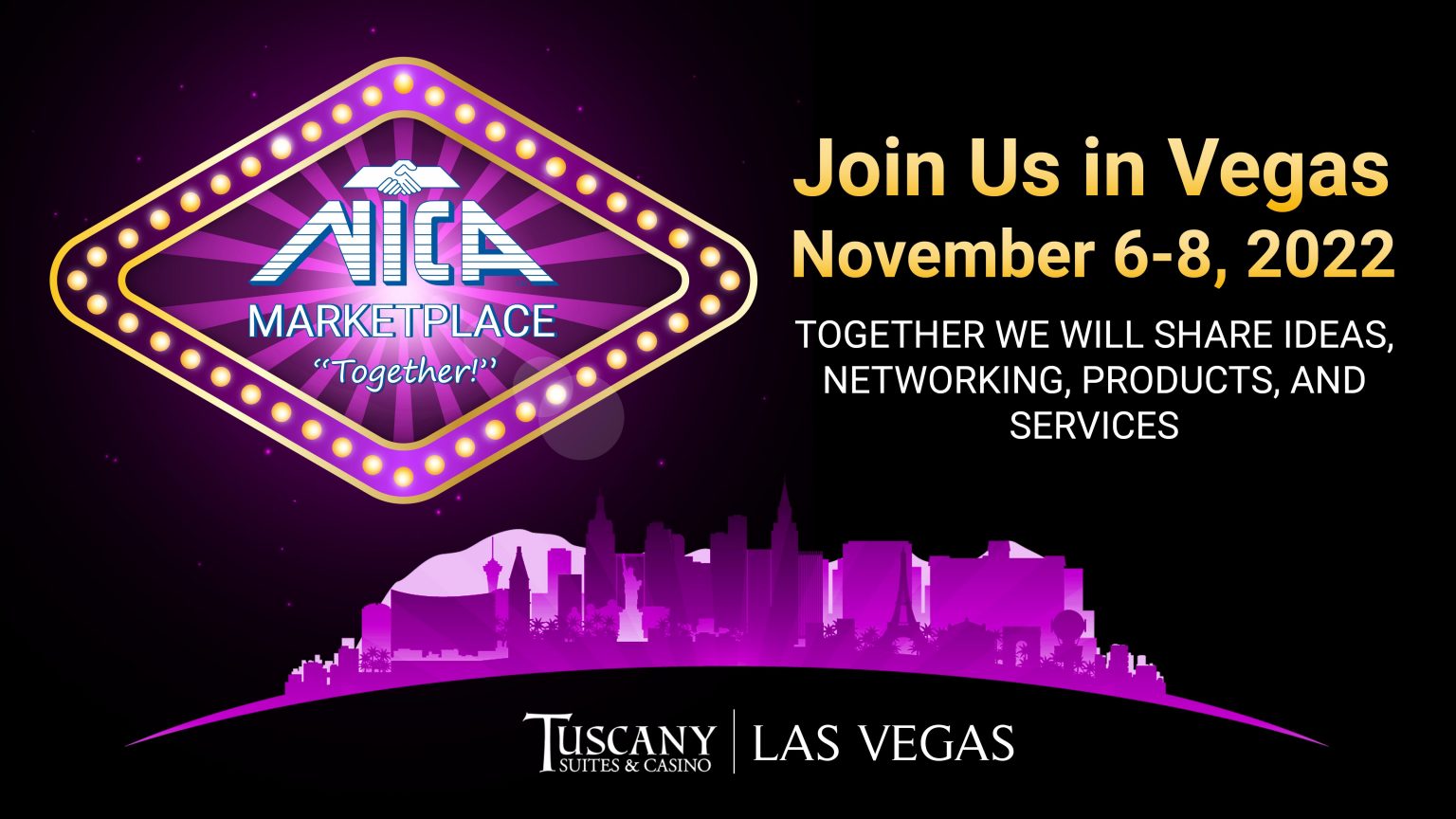 NICA Marketplace is Coming to Las Vegas, November 6-8, 2022: $99 Early Bird Member Registration is Now Open!
We are proud to announce the upcoming NICA Marketplace, where together we will share ideas, networking, products, and services, taking place November 6-8, 2022 at the Tuscany Suites and Casino in Las Vegas, NV. In 48 hours you will network with colleagues, discuss practical solutions, enjoy storytelling, and return enriched.
Who:
YOU, Business Owners/Managers, Fair Industry Leaders, and Trade Show Exhibitors.
What:
NICA Marketplace will feature a non-exclusive Trade Show, Educational Sessions led by hands-on Event Industry Thought Leaders, and Networking Opportunities that are welcome and comfortable - A place where we all understand we are customers of each other and Together we share a Fair guest to serve.
When:
Sunday, November 6th through Tuesday, November 8th.
Where:
Tuscany Suites and Casino, Las Vegas, NV. $79 Room Rate Sunday, November 6th through Thursday, November 10th, with no resort fee ($39 waived), suite sized rooms with kitchenettes, free Wi-Fi, and Free Parking! Hotel is located six blocks off the strip on Flamingo Road (directly behind Bally's and Paris) and six minutes from the McCarran International Airport.
Why:
This is YOUR Convention: programming content is focused on Industry relationships using effective communication, benefits, education, leadership, and solutions.
Share what is working in our Fair Community.
Place Manufacturers and Suppliers in front of Business Owners and Managers.
Showcase Commercial Exhibitors.
Opportunity to streamline Practices and Procedures Together.
Share Tips and Trends.
Connect with your Fair Friends and Family.
The Price is Right!
How:
Program Schedule*
Sunday, November 6, 2022:
2:00 – 6:00 PM: Registration
4:00 – 7:00 PM: NICA Marketplace Welcome Hospitality
Evening on your own
Monday, November 7, 2022:
7:00 AM – 4:00 PM: Registration
9:30 – 10:45 AM: Marketplace General Session – featuring Keynote Speaker Michael Bradley, "Think Like Walt," and NICA Benefits Review, "Together We Can Save!"
11:00 AM – 12:15 PM: Educational Workshops
12:30 – 1:45 PM: Box Lunches and Roundtables
2:00 – 3:15 PM: Educational Workshops
3:30 – 4:45 PM: Educational Workshops
5:00 – 8:30 PM: Marketplace Trade Show & Happy Hour
Evening on your own
Tuesday, November 8, 2022:
9:30 – 10:45 AM: Educational Workshops
11:00 AM – 1:00 PM: Marketplace Trade Show
1:15 – 2:15 PM: Ask Me Anything – Fair Leadership
2:30 – 3:30 PM: Ask Me Anything – Business Owners
3:45 – 5:00 PM: Educational Workshops
5:15 – 7:00 PM: Industry Excellence Reception
Evening on your own
*Schedule subject to change; check back here for updates!
Stay tuned to NICA's emails, social media and www.nicainc.org/marketplace for upcoming event information, programming updates, and more. Exhibitor Registration expected to launch early May. "Together We Can!"
Announcing the NICA Sysco Marketplace's New Partnership with Entegra
If you are enrolled in the NICA Sysco Marketplace, you may have received the following notice via email from Source1 Purchasing: "We regret to inform you that effective April 5, 2022, you will no longer be tied to the Source1 program." This is due to our exciting NEW partnership with Entegra Procurement Services, the world's largest food group purchasing organization with over $24B in purchasing power.
Under your prior relationship with Source1 Purchasing through NICA, this program was always powered by Entegra. As a result of moving directly to Entegra, we have maximized incredible savings, unmatched supply chain efficiencies, and tailored business solutions that will be available directly to you.
Continue to order just as you have with the same support and points of contact through Sysco Foodservices. There will be no changes or disruption in your current account status or deliveries from Sysco as a result of this change. If you are not yet a member of the NICA Sysco Marketplace, NICA and Entegra are working together to bring you an easy enrollment process directly from the NICA website.
We look forward to serving you without interruption to your day-to-day operations. With direct access to the Entegra program, you will not only continue to save on food and beverage purchases, but on all essential purchases and programs to meet your business needs and performance goals.
Some things are changing–Your savings won't!
With Entegra you have:
Continued savings on all purchases across your business
24/7 purchasing data and insights through Savings Optimizer tools
Complete access to a broader range of providers such as equipment, small wares, and more
Enhanced support through Entegra's Call Center
Expect an announcement this week for more information on how to join the program. In addition, Entegra will be reaching out to existing members to update information in order to pay the much deserved and needed rebates that will be generated as a result of your future purchases.
We are also proud to announce that Entegra has committed to participate in NICA Together: A Marketplace of Ideas, Networking, Products, and Services, November 5-8, 2022, at the Tuscany Suites and Casino in Las Vegas. Save the date now!
NICA, Sysco, and Entegra will be boosting performance together in no time. "Together We Can!"
Thank You for Attending the 2022 NICA Business Expo & Fare Foods Food Show
This year we celebrate the theme, "Thriving While Surviving!" On Monday and Tuesday, important topics were discussed by Fair and Concessionaire voices in the educational sessions, "What Should Today's Insurance Package Include," "Using New Products for Media Attention," "The Power of Serving Beverages," "DOT Update," "Expectations of Vendors and Fair Management," "Where Will the Next Generation of Concessionaires Come From," and "Pandemic Trends That Are Here to Stay." Roundtables allowed NICA Members to discuss Booking Fewer Stands, Fair Hours, Food Concessions in Five Years, H-2B, Multi-Year Agreements, Tipping Practices and Procedures, and Vendor Safety. The Fare Foods Food Show ran in five Food Show groups over the course of Monday and Tuesday, and showcased over 40 Exhibitors!
Wednesday featured the Annual NICA Leadership Luncheon and the Annual General Membership Meeting, featuring the Passing of the Gavel, Board Installation, Sister Organization and Benefit Company Speakers, Coca-Cola Membership Contest Winners, the NICA Year in Review, and CCE Awards. Our Annual Gala closed out the evening with a Cocktail Reception, Dinner, Industry Speakers, NICA Foundation Spotlight, Hall of Fame Tributes, and Auctions. Congratulations to Hall of Fame Recipient Tom Hodson, CCE, and thank you to all of our attendees, speakers, panelists, and presenters. We couldn't have done it without your continued support. "Together We Can Thrive!"
Congratulations to our Cupid's Quik Pick winners Dave Miller, Dennis Larson, CFE, Larry Wynn, and Bill Johnson, as well as our Food Show Windfall winners Staci Purdy, Jeremy Parsons, CFE, JB Kirk, Marissa Britt, and Beverly Venegas. The Gift of Travel Membership Prize, sponsored by Coca-Cola, went to Dottie Maile, the National Leadership Prize went to Sandy Class, CCE, the Member Referral prize went to Gary Shepard, and the Most New Members (and Championship Belt) went to Tom Hodson, CCE.
Special Thanks to Our Event Sponsors:
Annual Meeting
Paulette's Food Service and Libby's Soft Serve Ice Cream
Food Show Windfall
NICA and Fare Foods
Expo Educational Sessions
Jack's Fries, Pacific Crest Concessions, Rudy's, The Best Around, and The Thomas Hodson Company
Expo & Gala Fundraisers
The Coca-Cola Company, Concession Mall, Dickerson and Kenna Concessions, Extreme Food and Beverage, Fiserv, Five Star Catering, Forever Concession Trailers, Giant Ride, The Hummel Group, Jack's Fries, Jeanne's Artichokes, Libby's Soft Serve Ice Cream, NICA, Pacific Crest Concessions, Pristine Systems, Ross Concessions, Southern Oregon Food and Beverage, Sweet Cheeks, The Thomas Hodson Company, Vinnie's Fine Foods, Vista Mobility, and Wells Concession
Food Show Lanyards
McGowan Allied Speciality Insurance
Gala Celebration
Miller Company and Family, Southern Oregon Food and Beverage, and Vinnie's Fine Foods
Gala Cocktail Reception & Dinner
Fare Foods
Membership Contest
The Coca-Cola Company
NICA Leadership Luncheon
R.E. Smith and Sweet Cheeks
Stay tuned to upcoming NICA Now and NICA News publications for more coverage!  If you have any photos or stories you would like to share, we invite you to upload it with our Submit Your Content tool on our website or share it with us on Facebook.
2022 NICA Foundation Scholarship Applications Are Now Available Online
With the financial challenges that many of our students and their families are facing right now, the NICA Foundation is honored to award life-changing funds to so many deserving students. In 2022, the NICA Foundation Scholarship Program will continue to award multiple scholarships.
The scholarship application for 2022 is now available online at www.nicainc.org/scholarship. Applications must be received in the NICA Office no later than June 1, 2022 to qualify. Start planning the next steps for the next chapter in your life today!
Goodyear Pricing Tool Available to Members
We launched the Goodyear Tire benefit program over the last year and close to 50 NICA Members have already signed up! We are proud to announce a NEW Goodyear Online Pricing Tool, the Fleet Tire Finder, that will give you a closer look at how much you can save on commercial tires/retreads and consumer tires with this program.
How does the Online Pricing Tool work?
Visit the Goodyear Online Pricing Tool directly from the Benefits List in your NICA Online Member Account.
Search for your Commercial and Consumer tires by narrowing the results to your specific tire size or vehicle (retreads included for commercial tires).
After narrowing down your search, or entering your tire size, the tool will display all pertinent information including Base Price, National Account Price with NICA Member Discount, and more.
You do not have to sign up for the Goodyear program to access the pricing tool, but we encourage you to do so to make sure you receive the discount when you need it. With Goodyear's program, NICA members can conveniently buy tires at more than 5,700 locations or work with a dedicated national account manager to place an order. You must be a current NICA Member and provide your Member Number when signing up online. 
Tim Koenigsfeld, Goodyear, shared, "I have enjoyed meeting the many members who have registered for the program and helping them select the correct tires for the job. If there are any questions on the registration process or about the program, please give me a call. I look forward to working with you!" You can contact Tim at (636) 234-5904 or tim_koenigsfeld@goodyear.com.
Sign Up for the Goodyear Benefit Today!
Login to Access the Goodyear Pricing Tool
Join the Conversation with NICA Live!
We have launched our brand new Facebook Group, NICA Live! and want to invite you to join us. NICA Live! is a public group for our members and for supporters of the industry to share their voices and be heard.
Are you looking for extra help for an event? Have a question about equipment? Looking at a new event to add to your route? Ask our group members for advice, and start a conversation! You can join the Group by searching NICA Live! on Facebook or by selecting the link below:
Tips for Contacting Your Elected Officials
More and more often, we are being asked to contact our elected officials regarding our Industry concerns and challenges. Here are some tips to keep handy when contacting them.
Politicians are not interested in the opinions of people who cannot vote for them.  Identify yourself as a constituent of the legislator you are contacting.
Whether writing or calling your legislators, focus on a single topic. You will be more effective and receive a faster response.
Ask the legislator to take specific action, like supporting a piece of legislation.  Ask for a written response that gives your legislator's position on the issue.
Make your points quickly and concisely to have a greater impact.
When talking about an issue it is best to use your own words.
It is easy to hope someone else will make the contact, but maybe that someone is hoping YOU will be the one who makes the contact.  Abraham Lincoln reminded us we are a "government of the people, by the people and for the people." Whatever your opinion or request, simply share it with your elected officials today.
Contact Your Representative to Replenish the Restaurant Revitalization Fund Act
The Restaurant Revitalization Fund (RRF) has been an incredibly effective recovery tool for our Industry, but for too many owners, the $28.6 billion in funding didn't last long enough for them receive a dollar in disaster funding.
Senator Kyrsten Sinema (D-AZ), Senator Roger Wicker (R-MS), Representative Earl Blumenauer (D-OR), and Representative Brian Fitzpatrick (R-PA) have introduced the RRF Replenishment Act, HR 3807, which directs $60 billion in funding to the SBA, allowing them to complete the mission and provide sorely needed recovery dollars for our Industry. There are currently 181 Co-Sponsors to the bill: Check to see if your Representative is a Co-Sponsor
Please add your voice, share your perspective, and "Together We Can" move Congress to support the Industry by sending an email or making a phone call to your Officials; the link below will allow you to find your Representative based on zip code. Thank you for your continued support!
Sign Up Today for the NEW Goodyear Benefit
We are proud to announce a new benefit for NICA members – access to Goodyear's leading tires and retreads with 24/7 emergency roadside service – all at a competitive national price. "Together We Can!"
With Goodyear's program, NICA members can conveniently buy tires at more than 5,700 locations or work with a dedicated national account manager to place an order. You must be a current NICA Member and provide your Member Number when signing up online.
How it Will Work
Complete the electronic national account sign up form by selecting the button below.
Once sign up is complete you will receive an email from Goodyear in 1-2 days with your approval and account information.
Once approved, visit the NICA/Goodyear page to view pricing and review details about the program before ordering.