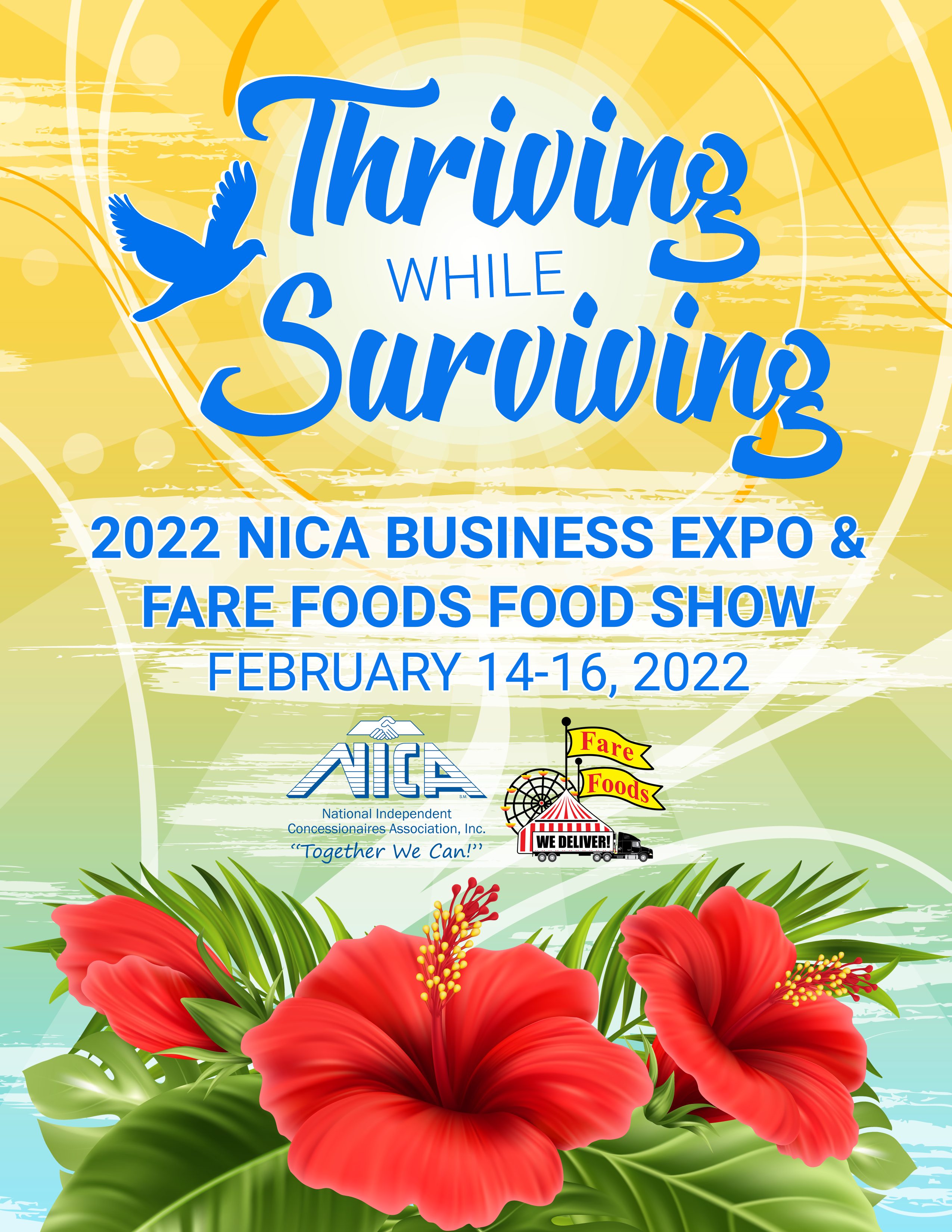 2022 NICA BUSINESS EXPO & FARE FOODS FOOD SHOW
February 14-16, 2022
Join us February 14-16, 2022 at the beautiful Sheraton Tampa Brandon Hotel, located at 10221 Princess Palm Ave. Tampa, FL, for the 2022 NICA Business Expo and Fare Foods Food Show. This year's theme is "Thriving While Surviving," which is a fitting description of how our Industry is emerging in the Post-Pandemic world. Come and learn all about the new food trends for 2022 and participate in some exciting new educational seminars and roundtables that will be offered at the event.
See the latest issue of NICA News for an overview of the event and stay tuned to NICA communications for additional details and programming information.
Event Overview
Fare Foods Food Show*
Five two hour sessions: two on Monday and three on Tuesday. The schedule will give you and your favorite Exhibitors time to try new items and discuss your buying program. At the end of each session there will be a $200 cash drawing for the attendees of that session. Yep, you could get paid $100 an hour for walking the Food Show. See over 40 Exhibitors inside the Food Show including Berk, Fanestil, Heinkel's, McGowen Allied Insurance, Mr. G's, RIO Syrup, Swanel, WNA, and many more. Exhibitors on your way into the Food Show include Century Industries, Fiserv, Forever Concession Trailers, Goodyear, Hummel Group, and JKJ Workforce.
NICA Business Expo Programming*
Happy Valentine's Day! Monday, February 14th: Arrive at Noon and have lunch networking with friends, both old and new, and snack on candy hearts. At 1:00 PM sharp we will kick off our educational sessions that include important insurance updates, including refreshed Health Insurance options, exploring the financial power of beverages, using food to initiate media attention, and roundtables discussing Fair Hours, Wi-Fi, and Credit Card Fees.
Monday's Fare Foods Food Show sessions are at 5:00 and 7:00 PM. At 9:00 PM, the NICA Foundation Cupid's Quik Pick winners will be drawn (winners need not be present) at the Food Show, followed by the Hospitality Reception on the patio.
Tuesday, February 15th: At 8:30 AM the educational sessions kick off with one of NICA's favorite sessions, DOT Tips and Updates, with Francisco Acuna. Sessions include panels and presentations on generational families, what COVID has really changed during these past two years, how "less is more" has improved some bottom lines, and how technology has changed what guests use to make purchases. Roundtable sessions include Multi-Year Agreements, Tipping Practices, Sales Tax, Food Concessions in Five Years, and Vendor Safety.
Tuesday's Fare Foods Food Show sessions will be scheduled at 3:00, 5:00, and 7:00 PM. At 9:00 PM, join us at the Hospitality Reception.
Wednesday, February 16th: Sessions will begin at 2:00 PM when Kate Turner, IAFE, will offer Industry trends from Kate's Reader's Service and James Judkins, JKJ, will highlight H-2B activity.
We invite you to attend the Annual NICA Membership Meeting at 5:00 PM where we proudly review 2021, install the 2022 Board of Directors, award Coca-Cola Membership Contest winners, and attend to the legal business of the organization.
The Thriving While Surviving Gala Dinner and Celebration closes out the evening at 7:00 PM where Fare Foods provides a tasty bill-of-fare, we honor Hall of Fame recipient Tom Hodson, CCE, meet the NICA Foundation Trustees, meet NICA Foundation Scholarship recipients, find the winning key for the Beer Fridge, compete boisterously for Silent and Live Auction items, and more.
*Schedule subject to change; check this page or the Whova app for more details.
PRE-REGISTER FOR THE EVENT & DOWNLOAD THE NEW APP!
We have chosen to continue with the registration program, Whova. The App that has been designed for the event can be downloaded after you register. The Whova app will keep up to date on all the new happenings, schedule, has the ability to interact with other attendees, and has information on all the sponsors and exhibitors.
As with last year's event, Whova is the registration program for the FREE 2022 NICA Business Expo and Fare Foods Food Show. In order to pre-register for your FREE ticket(s):
Put in number of tickets being requested.
Provide registration information in ticket information section for each person.
Choose your time slot session to attend the Food Show.
Submit the form and you are pre-registered!
NOTE: Please pre-register by Sunday, February 13, 2022 to avoid an on-site registration fee of $10. All proceeds will benefit the NICA Foundation.
Reserve Your Room Today at the Sheraton Tampa Brandon Hotel
SPECIAL REDUCED RATES FOR 2022*
King/Double Bed Room............$146/night (plus tax)
You can use this link to reserve your room(s): Hotel Reservation Link
Remember, make your hotel reservations early! Limited rooms are available and they may sell out quickly! The special discounted rates are $146 plus tax for standard rooms. If you are interested in upgrading your room, contact Audrey Poole at (618) 542-2155 or apoole@farefoods.com.
*Limited number of rooms are available at the discounted rate!
Credit card required to reserve room.