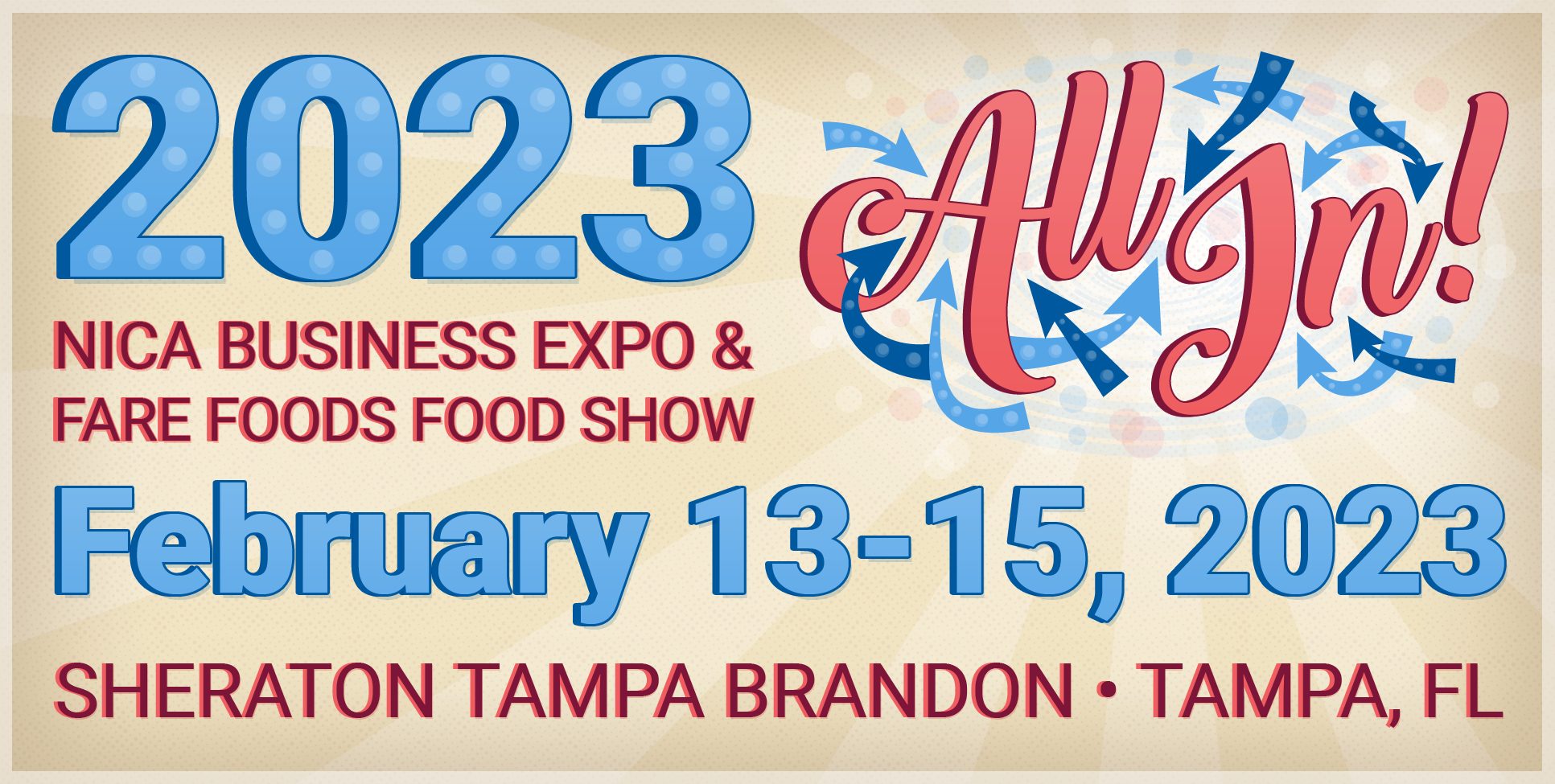 Thank You For Attending the 2023 NICA Business Expo & Fare Foods Food Show
At this year's event, we were proud to celebrate the theme of "All In!" On Monday and Tuesday, important topics were discussed by Concessionaire, Fair, and Associate voices at the NICA Business Expo:
"How To" Sessions on Propane and Accessibility
New Products That Draw Media Attention
Why the Choices You Make During Move-In Matter
Successful Exit Strategies
Nuts and Bolts of Successful Selling (held at the Florida State Fair)
Making Social Media and Marketing Work for You
Working Together on Affordability
What's On Your Mind?
We also featured a sold-out Heartsaver CPR Class that trained a group of attendees on Monday morning and two sessions of Roundtables that encouraged NICA Members to discuss Convenience Fees, Sustainable Packaging, Staffing, Tipping Practices, Product Duplication, and Fair Hours/Length of Stay. On Monday evening and Tuesday afternoon, the Fare Foods Food Show showcased over 50 Exhibitors in the Ballroom, Cypress Room, and Entrance Hall.
Wednesday's events featured the NICA Leadership Luncheon and the Annual General Membership Meeting, including the Passing of the Gavel, Board Installation, Greetings from IAFE, Partnerships, Coca-Cola Membership Contest Winners, NICA Year in Review, and CCE Award Presentation. Our Annual Gala closed out the evening with a Cocktail Reception, Dinner, Industry Speakers, NICA Foundation Spotlight, Hall of Fame, and Auctions. Congratulations to Hall of Fame Recipient Don Delahoyde, CCE, and thank you to all of our attendees, speakers, panelists, and presenters. We couldn't have done it without your continued support. "Together We Are All In!"
Additional Congratulations go to Cupid's Quik Pick winners Randy Reichert, CCE, Norm Keene, Libby Class, and Cecelia Kenna, our Food Show Windfall winners Kurt Miller (Fry Cutter), Chris Conkle, CCE (2 Night Hotel Stay), Myong Burcham ($200), Mark Granum (Fry Cutter), and Todd Desgranges (2 Night Hotel Stay), as well as our many Educational Workshop Door Prize and Auction winners. The Gift of Travel Membership Prize, sponsored by Coca-Cola, was awarded to Bryan Blair, the National Leadership Prize went to Tom Hodson, CCE, the Member Referral Prize was given to Jeff Ross, and the Most New Members Prize (and Championship Belt) went to Jacqueline Bradbury, CCE.
Special Thanks to Our Event Sponsors:
Annual General Membership Meeting
Pacific Crest Concessions and R.E. Smith
NICA Leadership Luncheon
Hummel Group
Food Show Windfall
Fare Foods and NICA
Expo Educational Sessions
The Best Around, Forever Concession Trailers, Jack's Fries, Leimon's Pizzeria, Sweet Cheeks, and Wells Concessions
Expo Fundraisers
Forever Concession Trailers and NICA Foundation
Gala Celebration
Southern Oregon Food and Beverage and Vinnie's Fine Foods
Gala Cocktail Reception & Dinner
Fare Foods
Gala Live Auction
Concession Mall, Eastern States Exposition, Five Star Catering, NICA, Ross Concessions, and The Thomas Hodson Company
Gala Pick-A-Ticket (Silent Auction)
5centride, Giant Ride, Jack's Fries, Leimon's Pizzeria, Meggers Road Concessions, Pacific Crest Concessions, Ross Concessions, Southern Oregon Food and Beverage, Sweet Cheeks, Tavern at the Park, The Thomas Hodson Company, Vinnie's Fine Foods, and Wells Concessions
Membership Contest
The Coca-Cola Company
Stay tuned to upcoming NICA Now and NICA News publications for more coverage! We will be posting more about the event in the coming weeks, as well as an overview in the next issue of NICA News. Do you have any photos to share of the event? Make sure to send them to us by email or tag @NICAInc when you post on Facebook, Instagram, and Twitter so we can see them!