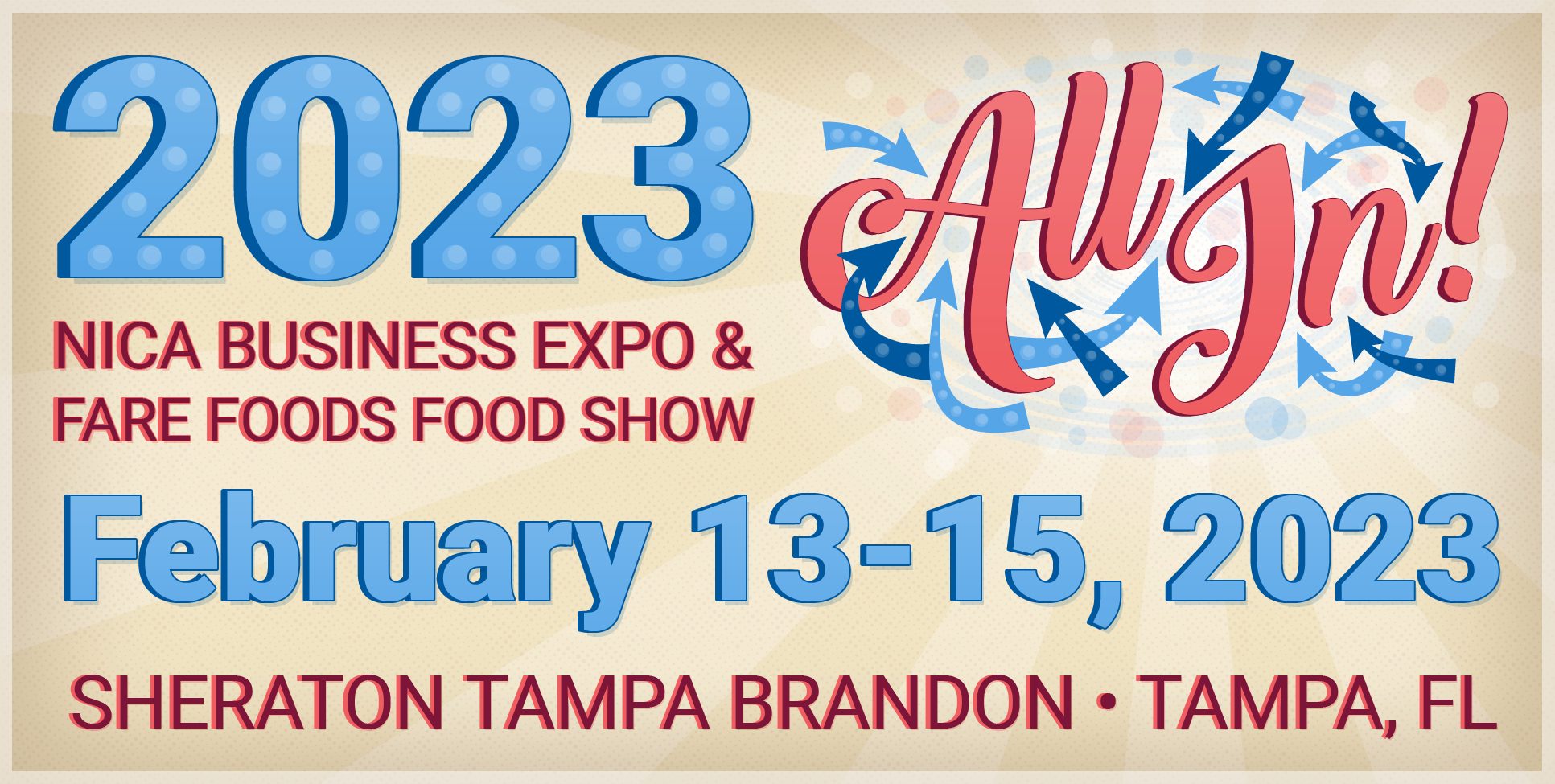 2023 NICA BUSINESS EXPO & FARE FOODS FOOD SHOW
February 13-15, 2023
Join us February 13-15, 2023 at the beautiful Sheraton Tampa Brandon Hotel, located at 10221 Princess Palm Ave. Tampa, FL, for the 2023 NICA Business Expo and Fare Foods Food Show. This year's theme is "All In!" With our record numbers seen this season, especially in comparison to Post-Pandemic events, this Industry is coming back strong! The NICA Business Expo will be held Monday through Wednesday, providing Workshops and Discussion Groups which cover the issues and the daily challenges our Industry is faced with today.
On Wednesday evening, we invite you to attend the Annual General Membership Meeting, where we will hold our Year in Review, install the 2023 Board of Directors, hold the Coca-Cola Membership Contest, and hear from Benefit Partners. During the evening's Annual Gala, we will highlight the NICA Foundation, honor a new Hall of Fame Recipient, and enjoy delicious buffer courtesy of Fare Foods.
The Fare Foods Food Show will run Monday and Tuesday and will feature exhibitors showcasing the latest food trends and technology that will define and kickstart the 2023 Fair Season.
Stay tuned to NICA and Fare Foods communications for important registration announcements and programming information, coming soon!
NOTE: Please pre-register by Sunday, February 12, 2023 to avoid an on-site registration fee of $10. All proceeds will benefit the NICA Foundation.
Programming Information Coming Soon
Reserve Your Room Today at the Sheraton Tampa Brandon Hotel
SPECIAL REDUCED RATES FOR 2023*
King/Double Bed Room............$147/night (plus tax)
You can use this link to reserve your room(s): Hotel Reservation Link
Remember, make your hotel reservations early! Limited rooms are available and they may sell out quickly! The special discounted rates are $147 plus tax for standard rooms. If you are interested in upgrading your room, contact Audrey Poole at (618) 542-2155 or apoole@farefoods.com.
*Limited number of rooms are available at the discounted rate!
Credit card required to reserve room.